Alleged 2

nd

in Command Arrested in Juarez
El

Paso

Times
Mexican authorities arrested two alleged
Azteca
gang members in
Juárez
, one described as the second in command of the violent street gang, The Associated Press reported Saturday.
The men have been linked to 10 slayings, including the killing last month of a federal police officer.
They were identified as Gonzalo Dominguez Sanchez, known as "El Chore," and Eduardo Rocha, alias "El
Dienton
," both 29.
Federal police said
Domin
guez
was the successor to alleged
Azteca
leader Jesus Er
nesto
Chávez
Castillo, "El
Camello
," who was arrested July 2 and is believed to be the mastermind in the slayings of U.S. Consulate employee Lesley
Enriquez
Redelfs
and her husband,
Arthur
Redelfs
, both of El
Paso
.
Rocha was described as the gang's second in command.
Federal police said the men were caught with an AR-15 rifle, two loaded pistols and more than 1.6 kilograms of cocaine.
Officials with the Mexican Attorney
General's
Office said
Chávez
, 41, was extradited to the U.S. on drug-dealing and unlawful possession of weapons charges earlier this month.
Chávez
had been detained in Mexico City for two months on suspicion of carrying out the killings of
Enriquez
Redelfs
and her husband in March.
Mexican officials handed
Chávez
over to the U.S. government in San Antonio. Several U.S. agencies have refused to discuss the case even though photographs of
Chávez
were taken at the federal courthouse in San Antonio.
The
Redelfs
were gunned down March 13 after leaving a children's party in
Juárez
. Another man, Jorge
Salcido
Ceni
ceros
, also was killed that day after leaving the same children's party.
Salcido
Ceniceros
was married to another employee at the U.S. Consulate.
Chávez
told Mexican police that
Enriquez
Redelfs
was targeted because she provided visas to a rival gang.
Chávez
also told police the order to attack
Enriquez
Redelfs
was made by gang members in the U.S.
The FBI, which joined the investigation in March, denied
Chávez's
allegation that
Enriquez
Redelfs
was slain because of her job.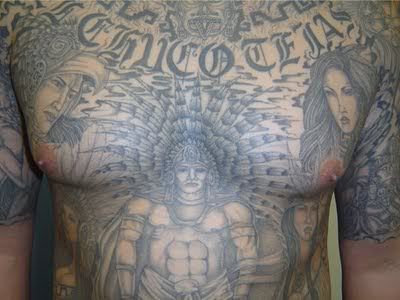 Los
Aztecas
mainly operate out of
Cuidad
Juarez. They are the street level enforcers for La Linea and the Juarez Cartel. Unlike most gangs operating on the Mexican side of the border they originated from the Texas Department of Criminal Justice (
TDCJ
).
In El
Paso
they are commonly referred to as 'Barrio
Azteca
' but there is little to no difference between the two. Many of the members consider themselves genuine Aztec warriors decorating themselves with tattoos of original Aztec symbols such as plumed serpents or the Aztec calendar.
They have also been known to use
Nauhuatl
, the ancient language of the Aztecs as a means of encrypted communication.
Los
Aztecas
now reportedly control 80% of the prisons in
Ciudad
Juarez. However once in prison they gain another use, they become enforcers of the internal drugs trade and are used to assassinate people affiliated with other cartels.
Some of the worst outbreaks of prison violence last year in Mexico have been attributed to the three major street gangs. In one incident in Juarez prison, members of Los
Aztecas
overpowered guards and got access to the sector of the prison that housed rival gangs Los
Mexicles
and Los
Artistas
Asesinos
who are linked to the
Sinaloa
cartel.
They opened the cells one by one beating and stabbing the inmates inside. When they had finished 20 prisoners lay dead some of whom had been stabbed at least 50 times, others had been thrown from the second floor balconies.
A similar incident happened
the state
of
Durango
where 24 inmates died. These outbreaks of violence have become commonplace in Mexican prisons and the families of inmates are used to the harrowing task of waiting outside the prison gates after each incident in order to see if their name is read out in the
causality
list.
Also among their enemies is La Mara
Salvatrucha
(MS-13). It has been rumored that members of MS-13 have been contracted to fight the bitter turf war against the Juarez cartel on behalf of "El
Chapo
" and the
Sinaloa
cartel
Sources: El

Paso

Times, Blog

del

Terror, History Channel,

Talkingdrugs

.org