"I went to the Monterrey arena and there I also received a tweet that said if I went to sing, the Zetas were going to kill me, all I did was turn off my phone and go up to sing, obviously I got tense, but I went to sing "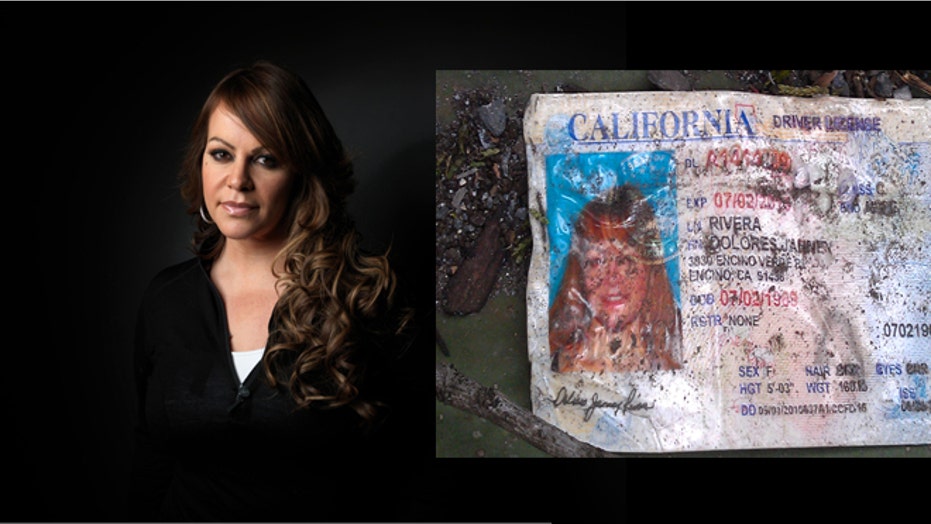 Drivers license found at crash site
Today, the radio personality Pepe Garza shared the conversation he had with the late singer Jenni Rivera, which, from the beginning, the singer wished would not be made public unless she was deceased.
While Garza and Jenni's children are sitting to listen to the interview, the audio opens with a phrase that hits the pit of the stomach; "It is an interview that we hope will never air," says Pepe Garza in a dry voice, while saying hello to Jenni Rivera who begins speaking about a complicated issue.
"There is a situation in Mexico that is putting the lives of many artists at risk," Garza continues, explaining how complicated it is to be a Mexican regional singer and to please audiences who are in complicated areas of the country.
The Diva de la Banda breathes and is blunt in the first thing she says in that interview: "Every weekend that I am working in Mexico I am risking my life .... I keep doing this for the love of what one does and the love I have for my audience. "
Pepe Garza stops the recording and tells Jenni's children that are stunned listening to their mother, "did your mother ever tell you that she had had threats?"
Chiquis replies: "That year
I remember that my mother had commented that she had been warned to not go to a city in Mexico, to prevent her being killed,
she entrusted herself to God and went and thank God came back well. " Remember the oldest daughter of the singer.
Johnny, the youngest son, says that he only remembers that his mother told his uncle Juan Rivera that he was watchful so that her children would not spend all the money if she were gone.
"Today is Wednesday, July 27 and it's 4 in the afternoon, and I wanted to do the interview because today I received an email from a person who is about to do a concert of mine in Arizona and even the FBI communicated with them wanting to speak with me…... they know about the death threats that I have received," Jenni says to Garza who, he says, is shared in confidence.
Under the assurance that the call was real because it was the same singer who spoke to the agency located in San Diego, she says, she did not want to tell her family to not worry them.
"If I feel uneasy, because professional people are already involved, but I have to go and I asked my husband (Esteban Loaiza), not to accompany me, I asked him to stay and stay with my children in case something happens.
That is why I would go alone so that my children would not be left alone", while saying this the singer is visibly worried.
Jenni's daughter Chiquis and son Johnny with Garza before listening to their mothers interview
Chiquis interrupts at that time, says he did not know about that, while Johnny says his mother never told them not to worry,
he was only 10 years old.
She was born to be a legend, confirms Jenni's youngest son, she was sure that she would die tragically, somehow she was obsessed with deaths like Selena's or Princess Diana herself, she says. The year Jenni died, she wanted to rest, she was tired, says Chiquis, while wiping her tears.
"I had no idea, my business is not illegal, on the contrary, I work hard, I don't get in touch with anyone, I would like people to know that if people have gone to palenques or if they ask me for photos, I don't deny it, I deal with people a lot, I don't have problems with any group or any cartel."
"I went to the Monterrey arena and there I also received a tweet that said if I went to sing, the Zetas were going to kill me, all I did was turn off my phone and go up to sing, obviously I got tense, but I went to to sing" states Jenni, who at that time does not know that he will apparently die in a plane crash after singing in the same arena.
Rivera also remembers that in Michoacán she was threatened with decapitation, and that another day she also ran barefoot to save her life, among 18,000 people who also did the same.
Jenni is buried at All Souls Cemetery in Long Beach California --her home town
The singer also talks about wanting to be more at home, she wanted to work more with her radio show so she could take her little Johnny to school, her son comments:
"She just wanted to be a mom…" with the voice of a man and that Jenni never lived to know.