Chivis Martinez Borderland Beat from Borderland Beat Archives Written by Jay Dub for BB
When people think of organized crime they usually perceive it as a world dominated by men. However, there have been several women who have made a name for themselves in the world of organized crime. If that does not surprise you, then the increasing number of women who have chosen a life of crime in recent years will. If that's still not enough, then the audacious crimes and the types of women who commit these crimes is sure to leave you in shock.
In Mexico's horrific cycle of cartel-spurred violence, it's becoming more and more common to see women playing important roles and even taking powerful positions in organized crime. In a culture known for its machismo, women command a startling degree of authority over the Mexican drug cartels. Some women run their finances, major smuggling operations, and even run entire cartels.
There are women in the lower levels of the Mexican drug cartels as well. From female assassins to low-level currency changers and everything in between. Most women start off laundering money for the cartels. Some come from powerful families of the narco-trade and have gained experience and connections by growing up around the narco-trade since the day they were born. Others have learned the business and gained important connections by dating powerful men in the narco-trade.
However, Mexico is not the only country that has produced powerful female gangsters. There's well known female crime bosses from all over the world, especially countries like Columbia and Bolivia, where most of the world's cocaine is produced. Other countries include Guatemala and the United States. Guatemala because it's a key corridor from South America to Mexico, and the United States because of it's the worlds #1 consumer of illegal narcotics.
a closer look at some of the most well know women of organized crime.
Enedina Arellano Felix is known as "La Jefa" (The Boss), "La Madrina" (The Godmother), and "La Narcomami" (The Naro-Mother). She leads the criminal organization known as the AFO (Arellano Felix Organization AKA Tijuana Cartel) along with her son Luis Fernando Sánchez Arellano.
Enedina was born into a family of drug traffickers. In 1977, when she was seventeen, Enedina harbored her dream of becoming the queen of a carnival in Mazatlán, but she abandoned it after her two brothers, Ramón and Benjamín, were wanted by the United States and the Mexican government. During that time, her older brothers were working for Miguel Ángel Félix Gallardo, who would eventually give them the drug corridor in Tijuana, Baja California.
Throughout most of the 1980s and 1990s, the Arellano Felix Organization was headed by her six brothers, while Enedina advised and helped them in money laundering and financial administration. Enedina graduated with a Bachelor's degree in accounting from a private university in Guadalajara, Jalisco.
After the fall of a financial mastermind of the cartel Jesús Labra Avilés, alias "El Chuy" in the year 2000, Enedina took up the position and began to directly manage the money laundering activities of the criminal organization.
Eventually she emerged as the leader of the AFO after her brother Eduardo Arellano Félix was arrested in 2008. This move took authorities by surprise because Enedina was never considered to be a leader of the organization. Her historical contacts with drug suppliers in Colombia managed to keep the organization afloat.
Enedina has reportedly helped contribute a more "business-like vision" instead of the old and violent practices of her brothers, who previously led the Tijuana Cartel before they were arrested or killed. She forged alliances with other criminal organizations, as opposed to her brothers, who often resorted to violence. The Drug Enforcement Administration (DEA) and the Mexican media identify Enedina as the first and only woman to lead a criminal organization in the world, activities historically reserved for men.
Family connections have played a major role in her criminal career. She is the niece of the man known as the original "Godfather" of Mexico's drug business, Miguel Angel Felix Gallardo. On her mother's side, the Beltrán-Leyva family has been involved in drug trafficking for three generations. The Beltrán-Leyva family began smuggling heroin in the 1970s and later diversified into cocaine.
While family connections introduced her to the narco trade, it was her beauty, charisma and ambition that got her to the top of the business. "She used her physical attributes to do business and gain allies", says noted journalist Ricardo Ravelo. "Her character is violent and manipulative; she has a very active social life, loves parties, jewels and pleasures."
By using her beauty and sex appeal, she attracted powerful Colombian and Mexican narco traffickers and was able to connect the Mexican Sinaloa and Colombian Norte del Valle cartels. She seduced the drug trafficking business' most powerful men.
She had romantic relationships narco heavyweights such as Sinaloa Cartel kingpins Ismael "El Mayo" Zambada,

Ignacio "Nacho" Coronel and Colombian mobster Diego "El Tigre" Espinoza. She was married twice; both of her husbands were ex-police commanders who became drug traffickers, and both of them were later killed by hired assassins.
The authorities attribute her rise to power in the drug world primarily to her most recent relationship with Juan Diego Espinoza Ramírez, alias "The Tiger", who is said to be an important figure in the Colombian Norte del Valle cartel. Avila's "claim to fame" is that she, and Juan Diego Espinoza Ramirez, alias El Tigre, established ties between the Sinaloa Cartel and Colombia's dominant Cartel del Valle.
Despite her high-profile lifestyle, Beltrán long avoided leaving police any evidence. However, she was eventually arrested, along with Espinoza Ramírez, on September 28, 2007, in Mexico City. She was charged and convicted of laundering billions of dollars from drugs smuggled from Colombia to Mexico.
When our parents transcend to the next life, it is customary to mourn their deaths. However, when Estrella's father Juan "Johnny" Ramos was gunned downed, she didn't mourn him. Ramos was saddened by her father's sudden death, but she was more focused on avenging him and determined to reclaim his turf. Estrella never doubted that she could make it in the world of Mexican drug cartels.
Estrella Hermila Ramos realized as a child that her father Juan "Johnny" Ramos was a player in CDS (Sinaloa Cartel). After her father's death she joined forces with her mother, Acela del Carmen Lizárraga. Acela had experience in the business, and they began pulling in $10,000 a week by shipping packages from Mexico into Texas. Mom cut, weighed, and bagged the cocaine; daughter handled customer service.
Like her mother, Estrella started out small, selling to musicians and executives. But the pair climbed the cartel rungs together, eventually handling payoffs to politicos and passing along information to cops on the take. Her mother Acela was eventually arrested as she was delivering a shipment of coke to Estrella's house.
The arrest should have served as a warning to Estrella, but the cash proved too compelling. While her mother was in prison, Estrella continued dealing and doled out cash to cops until there was nothing left to give. In 2004, a month after her mother's release, Estrella was pulled over while driving, charged with distribution, and sentenced to 40 months in prison. She was released in 2008 and now claims to be living an honest life.
Aunt Dolly Cifuentes and Ana Maria
Both "Aunt Dolly" and Ana Maria belong to the family of the former President of Colombia, Alvaro Uribe, and were actively involved in drug trafficking while Uribe was being paid $8 billion by the U.S.'s Plan Colombia to pursue a war against Columbia's cocaine traffickers. (continues on next page)
"Aunt Dolly" is the sister in-law of the former President of Colombia, Alvaro Uribe. She was either married to Jaime Uribe or the long-time mistress (accounts vary) of Jaime Uribe, Alvaro Uribe's brother. Their daughter, Ana Maria, also a part of the family drug business, is Alvaro Uribe's niece. Dolly Cifuentes' dynastic ties to drug trafficking go far beyond her marriage to the brother of former Colombian President Alvaro Uribe.
"Aunt Dolly" is the sister of a clan of drug trafficking brothers known as the Cifuentes Villa organization.The organization capo was Francisco Cifuentes, known as "Don Pancho", until he was assassinated in 2007. "Don Pancho" cut the historic deal with Sandra Avila's assistance, to distribute Colombian cocaine into the U.S. through Mexico with Sinaloa Cartel leader "El Chapo" Guzman.
After "Don Pancho" was assassinated, Jorge Milton Cifuentes Villa became the premier leader of the Cifuntes Villa organization. Jorge Milton Cifuentes was captured in Venezuela and extradited to Colombia in 2012.
Upon the arrest of Coronel Barreras (father in law of

"El Chapo" Guzmán) in April of this year, it was disclosed that Coronel was in charge of the transport of Cifuentes cocaine into the US from several points of South and Central America. He was the contact person for "El Chapo."
"Cifuentes's organization amassed a great fortune in money and illicit properties, as one of the main providers of cocaine to the Sinaloa Cartel", says the DEA website.
On February 13 of this year, the Office of Foreign Assets Control (OFAC) of the Department of Treasury of the United States designated Cifuentes Villa – who also has Mexican nationality- "most significant drug trafficker".

OFAC maintains that Cifuentes is owner of 15 companies that operate in Colombia, Mexico and Ecuador.
Jorge's sister Dolly Cifuentes Villa was extradited to the United States in August of 2012.

Dolly's daughter, Ana Maria Uribe Cifuentes was also arrested.

The arrest of Ana Maria caused uproar in Colombia as it was exposed that she was in fact the niece of Álvaro Uribe, former president of Colombia. The controversy was such that the former president was forced into a statement where the president claimed he had no knowledge of any relationship between his brother Jaime and

Ana Maria.
"My brother Jaime died in 2001, he was married to Astrid Velez, they had two children ... Any other romantic relationship that my brother may have had was part of his personal life and is unknown to me," Álvaro Uribe tweeted. Addressing the other elephant in the room, he denied Jaime was ever linked to the drug lord Pablo Escobar.
Alvaro Uribe has been directly linked to drug traffickers himself as well. In 2007, he allegedly approved the loading of 3.6 tons of cocaine at an airport he controlled in Rio Negro Colombia onto a "former" CIA Gulfstream (N987SA) jet from St. Petersburg Florida that crashed in the Yucatan. The fact that two successive U.S. Administrations provided billions of dollars to stop drug trafficking to a Colombian President who was involved in the drug trade himself also raised suspicions and conspiracy theories.
There is no proof that there was a legal marriage between Jamie and Ana Maria, a few counterfeit marriage certificates abound on the internet, and if they were married there is the problem of his other and public wife.

But there is no denying the parentage birth certificate confirms the rumor.
Subsequent to the statement of the president, his spokesman issued a statement that Dolly and Jaime had a brief affair.

That notion was dispelled when it was discovered 10 years after Ana Maria a second child was born, Daniel Alberto Uribe Cifuentes.

Dolly was 32 when Daniel was born. There is a document showing a joint deed on a property owned by the couple giving credence they were together for at least 15 years.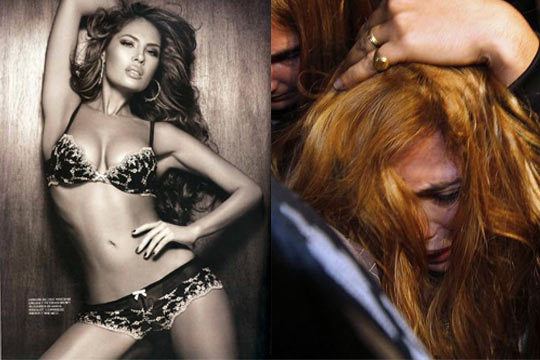 Angela Valencia Sanclemente
Angela Sanclemente is a former Colombian beauty queen and lingerie model believed to be the ringleader of one of the world's largest drug syndicates.
Valencia's operation is believed to be a "rival empire" to that of her former boyfriend, a Mexican drug baron known as "The Monster".
She formed her own cartel after splitting with him. She is alleged to have recruited other models, whom she is quoted referring to as her "unsuspicious, beautiful angels" as drug traffickers, paying them up to around $5,000 (£3,200) per trip to transport cocaine from Argentina to England by way of Cancún.
Valencia's alleged syndicate was believed to have been exposed on 13 December 2009, when a 21-year-old woman, "Ariel L", was arrested with a suitcase containing 55 kg (121 pounds) of cocaine at Ezeiza International Airport, Buenos
Aires, Argentina. "L" made no attempt to hide the drugs inside her bags, leading authorities to suspect the ring had help from employees.
She is reported to have been told that no one at the airport would try to stop her, and an investigation was launched to find employees of the airport with possible links to the syndicate. After questioning "L", three additional arrests were made and a warrant was issued for Valencia's arrest.
Valencia was finally arrested in Buenos Aires, Argentina, on May 26, 2010, while staying in a local hostel. Police reported that she had registered under a false name and had tried to alter her appearance by dyeing her hair blonde. She is currently serving a six year sentence that began on May 2012.
Marllory leads a drug trafficking and money laundering organization based out of Guatemala with operations in Honduras and Panama that supplies the Mexican drug cartels.

Chacon Rossell is believed to be one of the most prolific narcotics traffickers in Central America.
She is responsible for transshipping thousands of kilograms of cocaine per month through Guatemala, into Mexico, and on to the United States.

Chacon Rossell is also believed to launder tens of millions of U.S. dollars in narcotics proceeds each month, making her the most active money launderer in Guatemala.
"Marllory Chacon's drug trafficking activities and her ties to the Mexican drug cartels make her a critical figure in the narcotics trade," according to OFAC Director Adam J. Szubin. Locals describe her as a flashy woman who wears designer clothing, moves in high society circles and manages huge sums of money in her bank accounts.
Marllory works for Honduras drug lord Mario Ponce, who was arrested in 2011 and extradited to the United States.Chacon allegedly laundered drug profits in Guatemala that Ponce arranged from Honduras. Among those who helped Chacon is a new Guatemalan impresario, owner of a chain of stores around the country, to whom Marllory reportedly gave a unit in an exclusive condominium on the highway to El Salvador.

An informant fingered Marllory a couple of years ago as a possible money launderer, after she began moving large sums of cash through a bank account.
Her brother, Ferdy Oswaldo Chacon Rossell, is also a drug trafficker linked to Haroldo Lorenzana. The Lorenzanas are a renowned drug clan that has been repeatedly in the sights of U.S. drug agents.
After winning the state pageant title of Nuestra Belleza Sinaloa, Laura Zúñiga competed against thirty-two other contestants in the national pageant Nuestra Belleza México 2008, held on September 20, 2008 in Monterrey, Nuevo León, where she was

the substitute

and was automatically selected to represent the country in the Miss International 2009 pageant.
On October 30, 2008 she participated in Reina Hispano-Americana (Hispanic-American Queen) representing Mexico in Santa Cruz, Bolivia bringing the title to Mexico for the first time ever.
On December 22, 2008, Laura Zúñiga was arrested in , Jalisco, along with seven men who allegedly carried $53,000 in cash, two AR-15 rifles, three handguns, 633 cartridges of different calibers, and 16 cellphones. The arrest was made by the state police of Zapopan and Mexican Army officers. She was rumored to be the girlfriend of Luis David García Gutiérrez, brother of Raúl "El Doctor" García, the financial officer of the Juarez Cartel.
In her initial statement, Zúñiga declared that she was on her way to a party in Guadalajara and that she and her boyfriend were going "shopping in Colombia and Bolivia." The media noted that Colombia and Bolivia are both, main suppliers of cocaine to the Mexican drug cartels. During a later interview with Joaquin Lopez Doriga in Radio Formula, Zúñiga declared that she was kidnapped by her boyfriend Ángel Orlando García Urquiza, apparently a high-ranking leader of the Juárez Cartel and brother of an imprisoned drug lord, and that she was unaware of his illicit activities.
The critically acclaimed 2011 film, Miss Bala, or Miss Bullet, is loosely based on Zúñiga. Several key facts are switched in the film, for example, replacing the setting from Sinaloa to Baja California.
The basic structure of Zúñiga's story remains, however, such as the allegations of corruption in the pageant organization, Zúñiga's presentation to the media at the time of her arrest, and her allegations that she was not involved in narcotrafficking. Both Zúñiga and the main character, Laura Guerrero, even wear the same clothing when presented to the media and when crowned beauty queens.
Maria Susana Flores Gamez
Maria Susana Flores Gamez was a Mexican model and beauty queen. She was crowned 2012 Woman of Sinaloa. From early in her life she had been well off, attending private schools and winning beauty pageants since kindergarten, but despite her affluence she was still attracted to the fast life.
Very little is known about Maria during the last years of her life. She was killed in November 2012 during a shootout against the Mexican military. The circumstances surrounding her death are controversial and accounts of the event vary.
The official Mexican military report says that she went down in a hail of bullets after she emerged from the car with a gun in hand and opened fire on the soldiers. According to the attorney general's office, she was used as a human shield and never fired a shot when she came out of the car wielding an assault rifle with the other gunmen hiding behind her.
One report states that neighbors heard her trying to surrender, saying "Don't shoot," while the official reports by the Federal Police say they found an automatic weapon by her side and that forensic tests showed residues of gunpowder on her skin proving she was shooting at the soldiers.
What is known is that Ms. Flores was at safe-house with a group of henchmen associated with Orso Ivan Gastelum "El Cholo Ivan" of the Sinaloa Cartel. She was shot in the neck and killed by Mexican marines while trying to escape. One of the gunmen in the shootout was rumored to have been Maria's boyfriend, but those rumors have never been confirmed.
Another interesting detail of this story is the fact that the gun she died with was traced back to "Operation Fast & Furious", the extremely controversial ATF policy that "let guns walk" into the hands of Mexican drug cartel members.

...continues on next page...
Maria's father, Mario Flores, was also shot dead on June 4, 1998 in their hometown of Guamuchil, Sinaloa. Alinstante Noticias says Mario Flores was a man respected by members of the criminal underworld, and that people in the town claimed he had been involved in narco trafficking.
For her Quinceañera, Ms. Flores arranged for Valentin Elizalde "El Gallo de Oro," a Mexican Banda singer, to be her padrino, but he was gunned down and killed by members of the Zetas a month before the celebration. Valentin's brother, Jesus "El Flaco" Elizalde, stepped in to replace him.
Blanca Cázares Salazar is known as "La Emperatriz" ("The Empress"). Blanca is famous for her proficiency with numbers and her diverse business empire. She allegedly used an network of 23 individuals and 19 companies throughout Mexico and California to launder money for the Sinaloa Cartel on behalf of "El Mayo" Zambada. These businesses include a toy factory, a real state agency and a restaurant.
Blanca is also known for her stunning beauty and charming personality. Locals describe "The Empress" as "a pretty little blond ranch girl who wore tight clothes and white jeans." Her keen business sense, beauty and charm are all qualities that attracted "El Mayo" in the early 1990's. The two started dating and "El Mayo" eventually employed her services as a a low-level currency changer while they were dating and she eventually became the chief financial operator of the Sinaloa Cartel after years of experience in the business.
In 2007, she was designated a key money launderer the Sinaloa Cartel by the U.S. Treasury's Office of Foreign Assets Control. Her assets were frozen and her business was seized. Several of her businesses were based in Los Angeles and San Diego. Now in her late 50's, Blanca has been on the run ever since and her whereabouts are unknown.
In 2008 her son was murdered along with "El Chapo" Guzmán's son in an attack that was apparently carried out by the Beltran Leva Organization.
Ivonne Soto Vega and Eduardo Arellano Felix
U.S. authorities have identified Ivonne Soto Vega, known as "La Pantera" (The Panther) as a leader of the cell that used nine of the money exchange businesses named to launder more than $120 million over three years. For over 15 years she collaborated with brothers Ramon and Benjamín Arellano Félix to launder money in Mexico and the United States, Specifically in Tijuana and San Diego. "La Pantera" operated through several money exchange transfers of money from drug trafficking to accounts in Mexican and America. She was 50 years old when she was captured in Tijuana in 2001.
The Arellano Felix cartel used to be the predominant group controlling the flow of drugs into California, but the cartel has encountered serious setbacks over the years from a series of arrests and attacks from the Sinaloa Cartel in the war for Tijuana. However, they have reportedly been making a comeback recently in the fight to control extremely lucrative Tijuana corridor
María Guadalupe Jiménez López, alias "La Tosca" (The Tuff One) is affiliated with Los Zetas. She's considered to be Mexico's most prolific female assassin. "La Tosca" was responsible for robberies, kidnappings, killing rival gang members and managing 14 drug hotspots in Monterey. For her efforts, "La Tosca" was paid 10,000 pesos every two weeks, or about $1,500 per month.
When Maria was captured in 2012 she confessed to killing 20 people, including rival cartel members and police officers. She is accused of leading a Zetas cell that's allegedly responsible for a slew of crimes, most notably, the murder of detective Antonio Montiel Álvarez. Jiménez claimed to have blocked off Álvarez' car with an SUV, and she and a squad opened fire with 9 mm rounds according to Proceso.
Other murders "La Tosca" allegedly headed up include the torture and killing of two youths whose bodies were left in a white Ranger on April 20 and three others killed in February in connection with an attempted car theft.
Veronica Mireya Moreno Carreon, alias "La Flaca," (Skinny) is widely regarded to be the first female to ever rise to a position of leadership in the notorious Zetas drug cartel. Mireya Moreno Carreon managed all of the drug traffic in the Monterrey town of San Nicolas de los Garza. Carreon is reported to have taken over the territory when previous capo Raul Garcia Rodriguez got taken down by a military operation in 2010.
Before becoming a Plaza Boss for Los Zetas, Moreno was a decorated cop. She worked in San Nicolas de los Garza, one of the districts of greater Monterrey, where on April 22, 2009, she and a partner confronted kidnappers trying to snatch a car salesman from a lot. She was wounded in a shootout, and after recovering was given an award for her service to the community. But some time later, she failed tests to determine weather of not she was taking bribes, according to press reports, presumably a lie detector.
Monterrey has been a brutal battlefield for drug cartels, with the Zetas facing off against competing groups for dominance. Known as "La Flaca," Carreon only had a year on top before an undercover investigation busted her. She was in a stolen car and in possession of 100 individual bags of cocaine, 50 of crack, and two of marijuana as well as a .38 Special revolver.
Her real name is unknown, but "La Guera Loca" (The Crazy Blond) is a CDG (Gulf Cartel) sicaria (female assassin)

known for her appearance in a brutal cartel execution video that was posted on the internet. In the video, "La Guera Loca" administers a gruesome beheading of an alleged Zetas member with a large machete.
Once the head is completely chopped off, she picks the head up by the hair and shows it to the camera up close. When she puts the head down, an other member of the group proceeds to peel his face off of his skull using a small pocket knife before the rest of his body is mutilated and dismembered.
She herself was killed and decapitated - see below she is at far right directly before her decapitation.
The Cocaine Godmother (Above)
Griselda Blanco is probably the most well-known female gangster of all time. She is regarded as a former "queenpin" of the Median cartel and a pioneer in the Miami-based cocaine business of the 70's and 80's.
Blanco was involved in much of the drug-related violence known as the Cocaine Cowboy Wars that plagued Miami in the late 1970s and early 1980s, when cocaine replaced marijuana as the drug of choice for drug dealers on the streets. The media and the Cocaine Cowboys documentary has made her a celebrity of the drug trade, but her reputation is more fiction than reality according to most experts and people who were there.
Her distribution network spanned the United States. Street allegedly brought in $80 million per month. Her violent business style brought government scrutiny to South Florida, leading to the demise of her organization and the free-wheeling, high profile Miami drug scene of those times. She was suspected of masterminding over two hundred murders.
In the mid-1970s, Blanco and her second husband, Alberto Bravo, emigrated to the United States, settling in Queens, New York. They established a sizable cocaine business there, and in April 1975, Blanco was indicted on federal drug conspiracy charges along with 30 of her subordinates, at that time the biggest cocaine case in history. She fled to Colombia before she could be arrested, but in the late 1970s she returned to Miami.
Street lore describes Blanco as the most ruthless killer of her era, but there was an even bigger killer in Miami at the time. A Venezuelan man named Amilcar Rodriquez. Many of the people that Griselda Blanco claimed she killed were actually killed by Amilcar Rodriquez, and Rodriquez was more than happy to let Blanco take the credit for the murders because it enabled him to keep a low profile and attract less attention.
By 1984, Blanco's willingness to kill her rivals and take credit for murders she never ordered earned several enemies, so she moved to California in order to avoid assassination attempts on her own life. On February 20th, 1985, she was arrested by DEA agents in her home. Held without bail, Blanco was sentenced to more than a decade in jail. She continued to run her cocaine business while in jail.
By pressuring one of her lieutenants, the Miami-Dade State Attorney's Office obtained sufficient evidence to indict her for three murders. However, the case collapsed, largely due to technicalities, and Blanco was released from prison and deported to Colombia in 2004.
Griselda Blanco was 69 years old when she was gunned down in Medellin, Colombia on September 3, 2012. The hit was committed by a man who calmly hopped off the back of a motorcycle, methodically put a gun up to Blanco's head and proceeded to pump two bullets into her brain. The same method of carrying out a hit that Blanco was credited with inventing.
While her reputation has been greatly exaggerated, she was sill a major player in Miami's cocaine business in the 70's and 80's. However, she was not the biggest female drug lord of her era. The biggest female drug lord of the 80's was a Bolivian woman named Sonia Sanjinez De Atala.
The beautiful and deadly Bolivian named Sonia Atala. who, by any measure, was the real "Cocaine Queen" of the 1980s. Sonia's story is fascinating and complex. According to Michael Levine, author of "The Big White Lie," Sonia Atala played a leading roll in the The Cocaine Coup.
Levine says, "Of all the drug barons in Bolivia, Sonia's connections in Colombia and the United States were the best. Bolivian Minister of the Interior Col. Luis Arce Gomez quickly recognized her value to the government and put her in charge of selling the government's cocaine, then piling it up in bank vaults and letting it rot."
Levine explains that in 1979 and 1980, the center-left Bolivian government of Lidia Gueiler Tejada had agreed to work with DEA in targeting that nation's major narco-barons, individuals such as Roberto Suarez, Jose Gasser and Alfredo Guitierrez.
That led these narco-traffickers, cloaked in the garbs of legitimate businessman, along with elements of the Bolivian military, who were literally assisted by former Nazis (chief among them, Klaus Barbie AKA "The Butcher of Lyon"), to organize a successful coup d'etat against Gueiler's government. Levine adds that the CIA backed this "Cocaine Coup" and that many of its chief architects and key players, the top narco-traffickers in Bolivia, were, in fact, CIA assets.
Levine writes in his book the Big White Lie. "The Cocaine Coup had turned Sonia Atala into the chief international sales representative of Bolivia, then producing (in the early 1980's) approximately 80% of the world's cocaine. Beyond doubt the biggest female drug dealer of all time.
Levine is not alone in his assessment of the forces behind the Cocaine Coup, which resulted in making Bolivia a South American narco-state in the early 1980s and a major supplier of cocaine to the US during the period in which Griselda Blanco and Papo Mejia were fighting over the streets of Miami.
Robert Parry, a former Associated Press reporter who played a key role in exposing the Iran/Contra scandal in the mid-1980s, in a story written in 1998, also insists that the CIA backed The Cocaine Coup.
Eventually Bolivia's Queen of Cocaine fell victim to the treachery that comes with greed and power. She had grown too powerful in the eyes of some powerful Bolivian narcos running the country in 1980 and 1981, so they double-crossed her on a coke deal she had made with Colombian Mejiathen. She had no place to run and decided to become an informant in exchange for a lighter sentence. She remains in the witness protection program to this day.
Stay tuned for Women of Organized Crime (Part 2), where we take a closer look at famous woman who have dated narcos, daughters of organized crime bosses, and women who were victims organized crime violence.