By Chivis Martinez Borderland Beat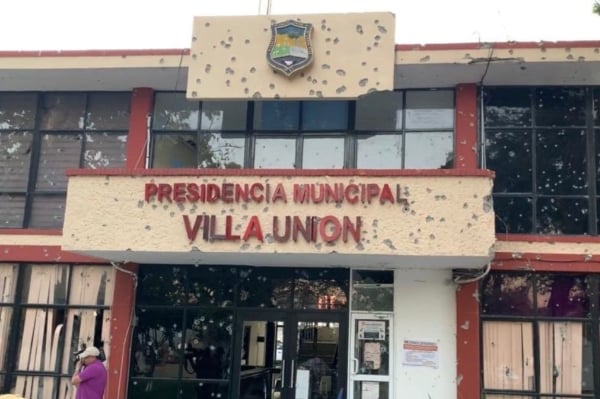 Storming into town in a large convoy, CDN [northeast cartel] members stormed the Coahuila town of Villa Union, population 8000, attacking local government offices and prompting state and federal forces to intervene.
The authorities confronted the suspects when they fled along the well-known road 'The Gas Gap', which leads to the boundaries of the municipality of Anáhuac, Nuevo León. Authorities were tracking CDN by land and air, with the collaboration of two helicopters.
Through its official accounts on social networks, the State Government reported that today they killed another 7 criminals, from the shootouts of yesterday in Villa Unión, Coahuila.
17 criminals killed, four Coahuila police force dead and six injured is the official toll of the confrontation between the Northeast Cartel and security corporations.
Yesterday, Governor Miguel Ángel Riquelme Solís travelled to the municipality of Villa Unión, where the confrontation was recorded.
Villa Union is minutes away from Allende where the 2011 massacre occurred.
Yesterday my friend Lacey told me "Chivis, the Sedena is outside of my suegro house."
They live in Guerrero a town adjacent to Villa Union.
She further reported; "The CDN came into 5 manantiales [Five Springs] today. I am sure you have seen the videos. They entered between Guerrero and Santa Monica. They entered Santa Monica and when they came thru one of the trucks was wrecked so they placed it sideways on the road and set it afire.
Unconfirmed but hearing now that they are in Piedras also and set afire c4 near the Fuerza Coahuila near Puente 2"
The C4 was attacked. The Secretary of Public Security of the State reported that the corporation responded to the attack with firearms before six in the morning in C4 in the municipality of Cd. Frontera Coahuila near Monclova and apx 3 hours to the border/Piedras Negras.
Through a statement, the state agency announced that there was no loss of human life or injury, and that everything was reduced to property damage.
The C4 command systems, is a new system that is a model in Mexico.
"Command, Control, Computing and Communications Center", that interconnects metropolitan regions with security.
Located in Coahuila in La Laguna [Durango border with Coahuila] and across Coahuila giving instant data and images to interconnected municipalities. This includes a video surveillance camera program.
The program is supported by federal funding. It is too early to determine how much of an impact it will have, but clearly CDN thinks it has value as the centers have come under attack.
Images: