El Armadillo-BorderlandBeat from DEA
HOUSTON - A 34-year-old Mexican man has been ordered to a federal prison sentence following his conviction of conspiracy to import large amounts of cocaine and marijuana, announced Drug Enforcement Administration Special Agent in Charge Will R. Glaspy and U.S. Attorney Ryan K. Patrick.
Luis Ivan Nino-Duenez, El Control, Tamaulipas, Mexico, pleaded guilty June 3, 2014.
Today, Senior U.S. District Judge Hilda G. Tagle sentenced Nino-Duenes to a total of 20 years in federal prison.
During the hearing, the court heard evidence to support possible increases in the calculated sentencing guideline range. Nino-Duenes utilized automatic weapons, grenades, homemade cannons and body armor to provided security during the purchase, transportation and distribution of narcotics. He also commanded, directed and engaged in violent confrontations with other criminal syndicates to maintain control of the plazas in Mexico.
He further received enhancements for importation of meth into the United States, maintaining premises for the purpose of manufacturing or distributing a controlled substance and because he committed the offense as part of a pattern of criminal conduct. Finally, the court also found Nino-Duenes was a leader/organizer of an extensive criminal enterprise involving five or more participants.
Nino-Duenes served as a comandante for Jose Luiz Zuniga-Hernandez aka Wicho or XW who served as a gulf cartel plaza boss in El Control for a large period of time between 2008 through 2011.
On Nov. 6, 2010, Zuniga-Hernandez assumed control of the Matamoros Plaza upon the death of Antonio Ezequiel Cardenas-Guillen. On March 28, 2011, Rafael Cardenas-Vela came to Matamoros to take over the plaza management duties and Zuniga-Hernandez returned to El Control.
Cartel Del Golfo transnational criminal organization plaza bosses are appointed to specific regions to help coordinate the importation and distribution of multi-ton shipments of cocaine, marijuana and other illicit narcotics within Mexico and into the United States. They are the lead representatives for the CDG in a particular region or town, responsible for maintaining control of the region and ensuring the safe passage of narcotics. The plaza boss also extracts a "piso," or payment, from others who want to transport narcotics for importation into the United States or operate businesses in that region.
Additional evidence presented today indicated Zuniga-Hernandez and the CDG smuggled more than one ton of cocaine through the Matamoros/El Control plaza areas and more than 3000 kilograms of marijuana into the United States per month. The CDG used planes and clandestine air strips to fly the cocaine into Mexico for later importation and distribution within the United States.
Zuniga-Hernandez had under his command approximately 120 lookouts and 60 estacas. An estaca is a vehicle occupied by three or four armed individuals. Thus, 60 estacas would be anywhere from 180 to 240 armed individuals patrolling the plaza. Nino-Dunez was the commander of Zuniga-Hernandez's estacas.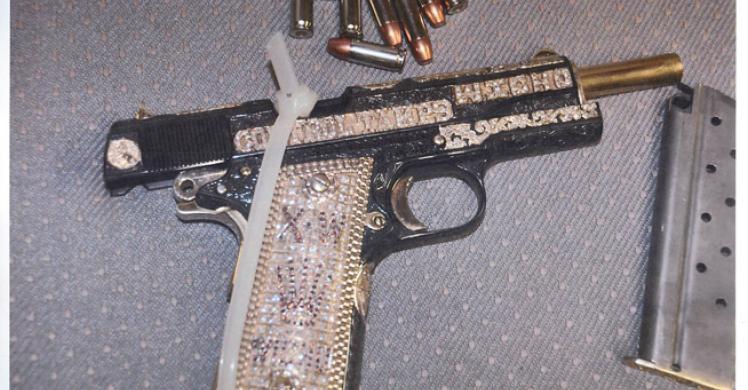 On Oct. 27, 2011, Zuniga-Hernandez and Nino-Duenes along with Hernandez and Rincon-Rincon fled into the United States after a gun battle in Mexico involving a power struggle between the CDG plazas.
All were found hiding near the Rio Grande River. Upon their arrest, agents found a gold, diamond and ruby encrusted gun, more than $39,000 and several cell phones. Evidence on those phones showed discussions with "Apa" about the gun battle and what to do in response. "Apa" was identified as Jorge Eduardo Costilla-Sanchez, the head of the CDG.
Zuniga-Hernandez, Hernandez and Rincon-Rincon were previously sentenced to 50 years, 35 years and life imprisonment, respectively.
Nino-Duenes will remain in custody pending transfer to a U.S. Bureau of Prisons facility to be determined in the near future.
Immigration and Customs Enforcement's Homeland Security Investigations, Drug Enforcement Administration and Cameron County Sheriff's Office conducted the Organized Crime Drug Enforcement Task Force investigation. Assistant U.S. Attorneys Angel Castro and Jody Young are prosecuting the case.